14.08.2012 three puppies were born in our kennel. We've got black & white boy/available/, blue & white girl and blue & white boy /reserved/.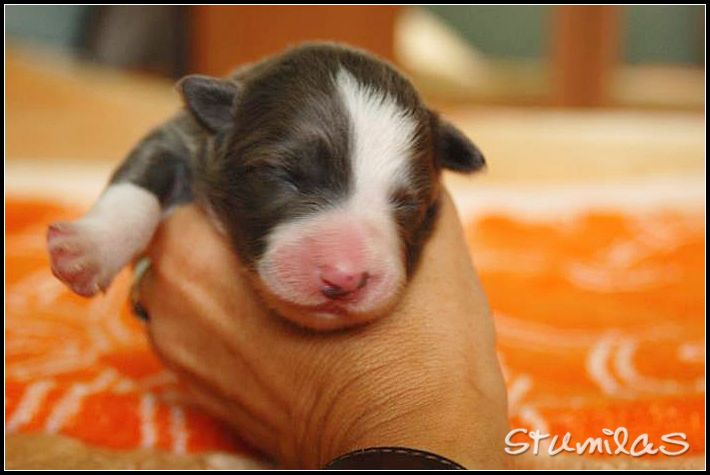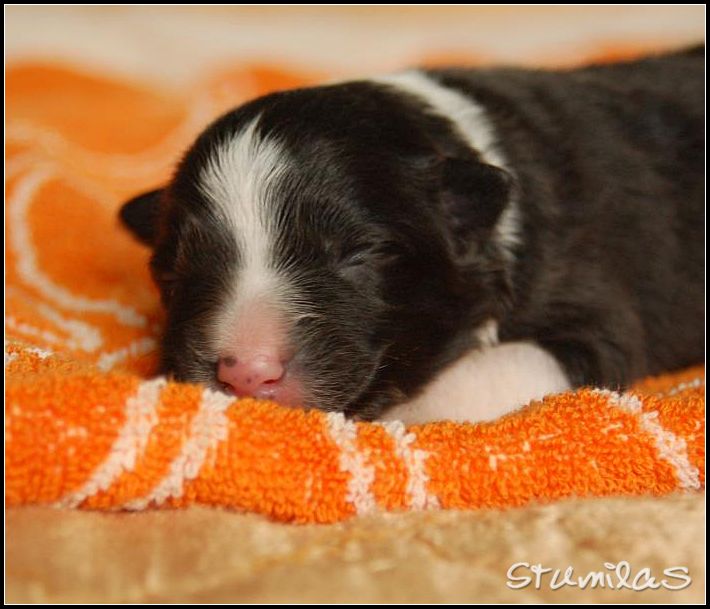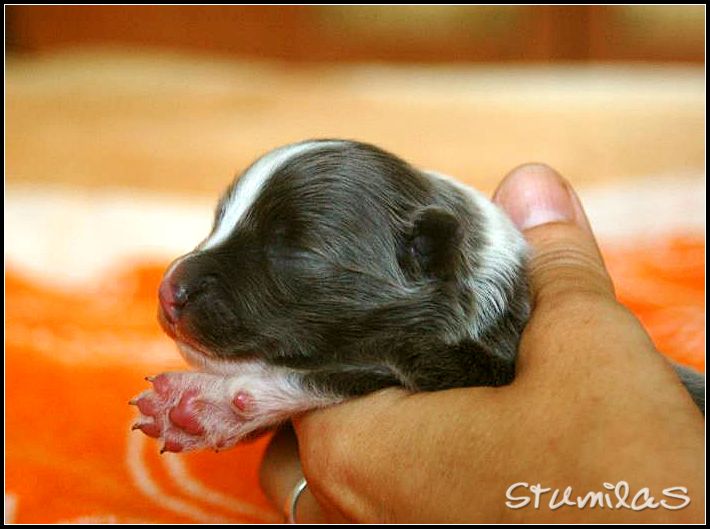 Parents are: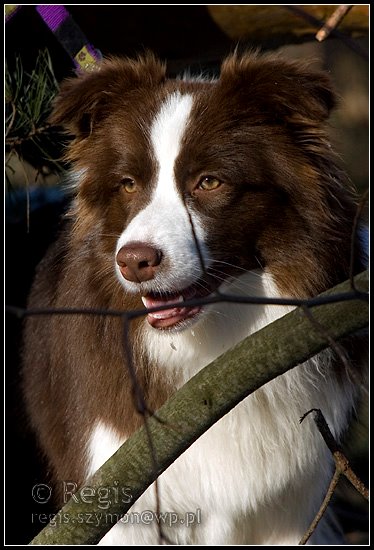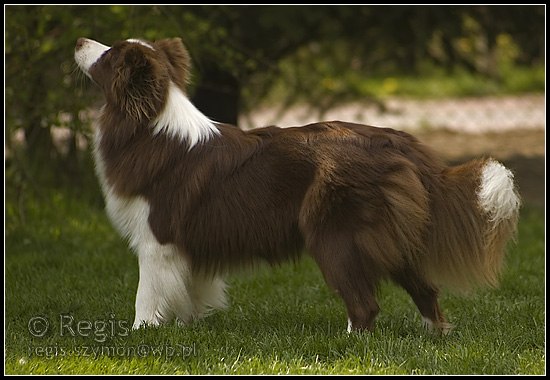 NNL NO LIMITS - Choco
(Hun Ch Bayshore's Count Chocula [USA] X Pol Ch Oodnadatta Supa Shake [Aus])
DOB: 11.01.2007
HD A
CEA/TNS/CL DNA Normal by parentage

and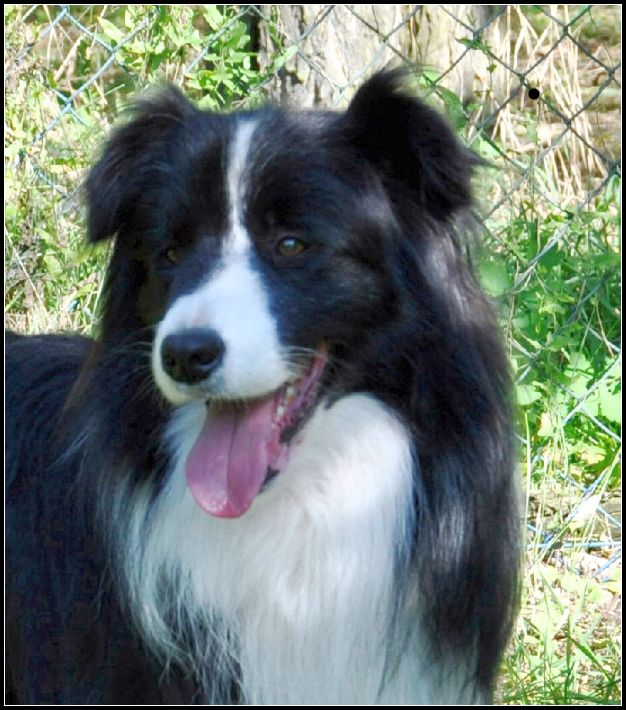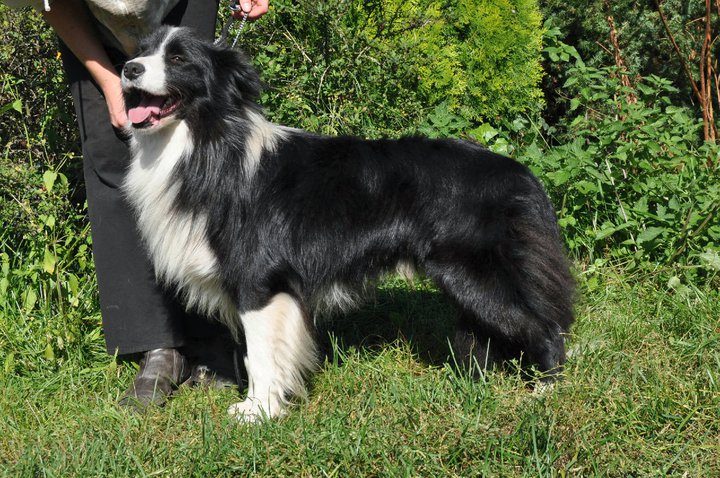 Youth Ch. PL, Ch. PL
HI ALDERAAN of Maranns Home – Leo [import: Belgium] (LINK).
(AKC Ch Marquee's Rip Roar Of The Crowd [USA] X Wayside Making Waves At Marquee [USA])
DOB: 14.05.2008
CEA, PRA, KAT : free (tested every year)
GLAUCOMA : free
HD A, ED 0-0
Leo is a great, full of energy and will to work, but also well-ballanced dog.He has very good temperament, an excellent biuld and a friendly nature. At home he makes no troubles as a part of his two- and four-footed family ;)
Choco is the first border collie bitch in Stumilowy Las Kennel. Her character is fantastic, the work and living with her is a source of joy and satisfaction. You have to deserve for her trust, but then you can be sure her unconditional love and loyalty. She is exellent show girl with precious pedigree.
Both, Leo and Choco, in earlier litters gave many great attributes to their puppis. We hope for healthy, well-balanced and well-built puppies with good potential to work with their carers. The parents were tested – they are healthy and they don't carry any health defect of their breed.
Both are very good companions at work and valuable representatives of the breed..
For more information about this litter contact:
Małgorzata Janik-Płonka
cellphone (+48) 608 672 702
e-mail: stumilas@poczta.onet.pl
PUPPIES' PEDIGREE

Mł. Ch. Pl., Ch. Pl.

Hi Alderaan of Maranns Home

Am Ch Marquee's Rip Roar Of The Crowd
Am Ch Borderfame Choc Chill
Lucratif Original Chill
Borderfame Ravers Delite

Am Ch Shoreland Music In Motion

Am Aust Ch Goldentone Blue Illusion
Shoreland's Twist N Shout


Wayside Making Waves At Marquee

Am Ch Pikkupaimenen Dream Catcher
Dan Ch Clan-Abby Nz-Kiwi-Phantom

Fin Sh Ch Pikkupaimenen Miss Tellurium

Am Ch Wayside Road Less Travelled

Multi Ch Pikkupaimenen Zoom The Moon

Am Ch Borderfame Brooklyn Roads
Never Never Land No Limits
Hu.Jr.Ch. Bayshore Count Chocula
Am.Ch. Bayshore Hot Fudge Royale
Ch. Borderframe Choc Chill
Ch. Glentress Winta Reaction
Ch. Borderframe Turkish Delite
Lucratif Original Chill
Borderframe Ravers Delite
Ch.Pl., Pl.Club W'06, Pl.Jr.Ch. Oodnadatta Supa Shake
Tambovale Supa Nova
Ch.AUST & NZ Glenterss Chain Reaction
Oodnadatta Caprice

CH.AUST. Oodnadatta She's A Scamp